I just had to share this Oreo Ghost Pop Tutorial.......
How A-DORABLE!!!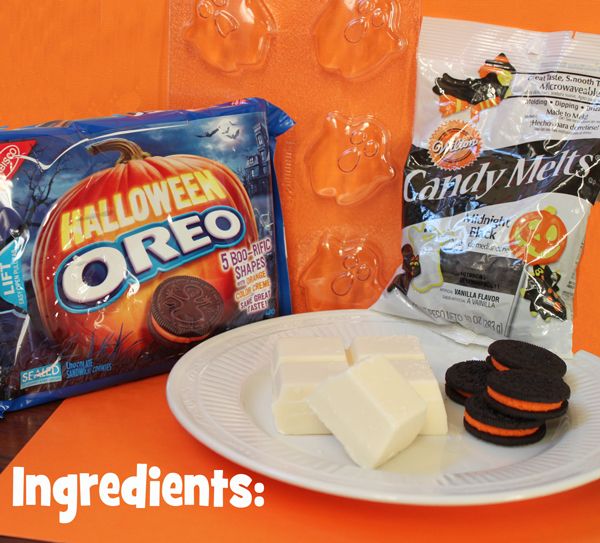 - White chocolate candy coating
- Black candy melts (or dark chocolate if you can't find the black candy coating)
- Oreo ghost mold from Spinning Leaf
STEP 1: Put a few black candy melts in a microwave safe dish


STEP 2: Microwave according to the directions - be careful not to scorch it


STEP 3: Dip a clean, new small paintbrush into your melted candy coating


STEP 4:
Brush the candy melts into the eye and mouth cavities of your ghost molds
STEP 5:
Finish Step 4 for all of the ghost molds
STEP 6: Melt your white chocolate candy coating (be sure to follow the directions on the label)


STEP 7: Fill one ghost cavity 1/3 full of melted candy coating
STEP 8: Place your Oreo inside the cavity, making sure it is level
STEP 9:
Spoon more candy coating over the Oreo to cover
STEP 10:
Repeat for all of your ghost molds
STEP 11:

Use the back of a knife to wipe away the excess candy coating and create a smooth back for your ghosts. Place the molds in the refrigerator for approximately 10 minutes or until the chocolate hardens.



STEP 12: Remove the molds from the refrigerator and bend the silicone slightly to pop out each ghost

STEP 13: Run a sharp knife around the edge of each ghost to remove the excess chocolate

STEP 14: Smooth the cut edges of chocolate with your fingers
You may wrap your little ghosts treats in cellophane and give them away at this stage or if you would like them on skewers like the ones in the photos, just carefully and slowly twist the sharp, pointed end of a wooden bbq skewer into the bottom of each ghost. Add a few cut rounds of white tissue paper stacked on top of one another with a few rounds of cheesecloth stacked on top of the tissue paper. Next add a sweet ribbon bow and you're done!
To find more ideas like this and so much more, head over to